Publications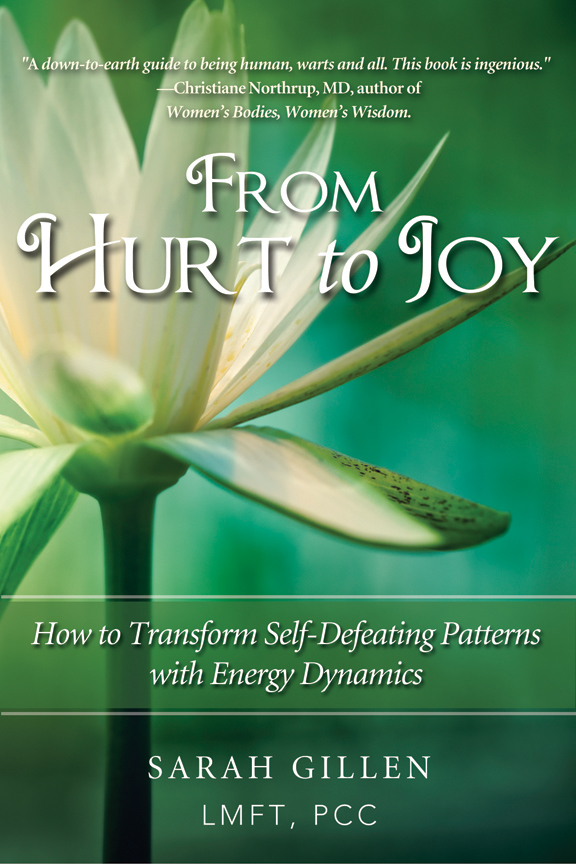 Do self-defeating beliefs hold you back from realizing your full potential?
Do you find yourself repeating unhelpful patterns in your work or relationships?
Do you have painful, maybe even traumatic, memories that hold you back from living the way you want?
This book can change your life! For over 30 years, I have helped thousands of clients release pain and self-defeating patterns and blossom into their talents, building freer and fuller lives.
This unique and powerful book shows how to release trauma and self-defeating patterns. You'll learn to use your own Energy Dynamics to empower yourself and become joyful.
You'll get clearer how hurtful history affects you, and how automatic reactions keep you in an endless-feedback-loop, making it hard to escape the past. You'll learn the real purpose of self-criticism and how to work with your brain-functions more effectively to make change.
I also teach you specific Energy Dynamics techniques that enable you work through old patterns, develop new skills, and a new outlook on life. From Hurt to Joy will help you deal with anxiety and pain and protect yourself from troublesome people effectively. It will teach you how to feel confident and self-supportive, to embrace your strengths, and to build the life you were meant to live on your own terms.
The methods are a unique synergy of Energy Medicine, Oriental Medicine, and traditional Western and positive psychology. The theoretical basis of my work parallels Buddhist psychology on many levels. I draw on 30 years experience with clients, my own history, and lots and lots of research.
The Energy Dynamics skills in this book work whether you've been hurt physically or emotionally, whether it was a traumatic or more usual upset involving hurt, loss, confusion, overwhelm, or any other dilemma. They can also help you enhance your self-awareness and well-being and evolve as a human being.
You will learn to:
move into your body, rather than cutting it off to get away from sensations,
live in the present, while resolving and releasing the past,
identify and undo the automatic protective energy patterns that are your reaction to stress,
discover what really protects you and what does not,
transform your opinion of, and learn to value, yourself,
develop a deeper relationship with who you really are, and
turn toward the positive in you, in others, and in circumstances.
No matter how much suffering has been piled on top of it, joy is lurking deeply within all of us. When you resolve old pain, and uncovering your joy, you can then build the habits that change the foundation of your life. Share